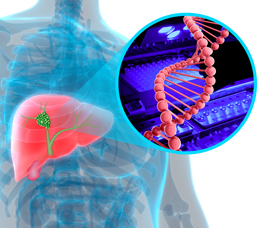 Med-IQ Select
The Promise of FGFR Inhibitors in Cholangiocarcinoma: Are You Prepared?
Please choose a module from the options below. To receive credit and a certificate, you must complete all of the modules in this activity.
Welcome to this Med-IQ Select on the potential role of fibroblast growth factor receptor (FGFR) inhibitors in cholangiocarcinoma. Med-IQ Select is a unique online educational offering that allows you to pick and choose the content you would like to view—in any order and at your convenience.

To get started, click "view" on any of the modules below. To receive credit and a certificate, you must complete all of the modules.
By clicking to continue below, you confirm that you have reviewed the CME information.
---

Time to complete: 7 minutes
---

Time to complete: 16 minutes
---

Time to complete: 7 minutes
---
Complete all of the above modules to earn credit;
0 out of 3 modules complete
---
---
Released: 11/27/2019
Expires: 11/26/2020
---
Overview: This modular, accredited CME publication explores emerging research and practical insights related to the potential use of FGFR inhibitors in cholangiocarcinoma. Audio clips provide insights from expert faculty, Lipika Goyal, MD, MPhil, on the role of FGFR in cholangiocarcinoma pathogenesis and FGFR inhibitors that are currently in development, as well as overcoming acquired resistance to FGFR inhibitors and managing adverse events.
---
CME Information:
Faculty
Lipika Goyal, MD, MPhil
Gastrointestinal Medical Oncologist
Massachusetts General Hospital Cancer Center
Harvard Medical School
Boston, MA

Activity Planners
Iwona Misiuta, PhD, MHA
Clinical Content Manager
Med-IQ
Baltimore, MD

Rebecca L. Julian, MS, ELS
Senior Manager, Editorial
Med-IQ
Baltimore, MD

Samantha Gordon
CME Specialist
Med-IQ
Baltimore, MD

Kathryn Schaefer, MSN, RN, CPHRM
Senior Manager, Accreditation and Compliance
Med-IQ
East Lansing, MI

Writer
Haifa Kassis, MD
West Roxbury, MA

Learning Objectives
Upon completion, participants should be able to:
Discuss the prognostic and potential predictive implications for FGFR fusion testing in cholangiocarcinoma
Apply the latest clinical evidence for emerging FGFR inhibitors in cholangiocarcinoma, including the identification and management of adverse events, as these agents become available or for clinical trial enrollment
Target Audience
This activity is intended for oncologists.

Statement of Need
Cholangiocarcinoma, a rare but often fatal malignancy, affects approximately 8,000 patients annually in the United States. Although surgery can be curative, up to 80% of patients are ineligible for surgical resection, and, consequently, survival is poor. Advances in technology and an increased understanding of the molecular pathways that drive oncogenesis has led to the development of novel therapies targeting FGFR gene fusions in cholangiocarcinoma. Oncologists need to be aware of the emerging clinical data on FGFR inhibitors and be prepared to integrate FGFR fusion testing as well as FGFR inhibitors into clinical practice in a safe and appropriate manner.

Providership Statement
Provided by Med-IQ.

Accreditation/Designation Statements
Med-IQ is accredited by the Accreditation Council for Continuing Medical Education (ACCME) to provide continuing medical education for physicians.
Med-IQ designates this enduring material for a maximum of 0.5 AMA PRA Category 1 Credit™. Physicians should claim only the credit commensurate with the extent of their participation in the activity.

Nurse practitioners, physician assistants, and other healthcare professionals who successfully complete the activity will receive a Statement of Participation indicating the maximum credits available.
Medium/Method of Participation
This is a 0.5-credit CME activity. To receive credit, read the introductory CME material, complete all of the modules, and complete the evaluation, attestation, and post-test, answering at least 70% of the post-test questions correctly.

Initial Release Date: November 27, 2019
Expiration Date: November 26, 2020
Estimated Time to Complete This Activity: 30 minutes

Disclosure Policy
Med-IQ requires any person in a position to control the content of an educational activity to disclose all relevant financial relationships with any commercial interest. The ACCME defines "relevant financial relationships" as those in any amount occurring within the past 12 months, including those of a spouse/life partner, that could create a conflict of interest (COI). Individuals who refuse to disclose will not be permitted to contribute to this CME activity in any way. Med-IQ has policies in place that will identify and resolve COIs prior to this educational activity. Med-IQ also requires faculty to disclose discussions of investigational products or unlabeled/unapproved uses of drugs or devices regulated by the US Food and Drug Administration.

Disclosure Statement
The content of this activity has been peer reviewed and has been approved for compliance. The faculty and contributors have indicated the following financial relationships, which have been resolved through an established COI resolution process, and have stated that these reported relationships will not have any impact on their ability to give an unbiased presentation.

Lipika Goyal, MD, MPhil
Consulting fees/advisory boards: Agios Pharmaceuticals, Debiopharm Group, H3 Biomedicine Inc., KLUS Pharma, QED Therapeutics, Taiho Pharmaceutical Co, Ltd.

The writer, peer reviewers, and activity planners have no financial relationships to disclose.

Statement of Evidence-Based Content
Educational activities that assist physicians in carrying out their professional responsibilities more effectively and efficiently are consistent with the ACCME definition of continuing medical education (CME). As an ACCME-accredited provider of CME, Med-IQ has a policy to review and ensure that all the content and any recommendations, treatments, and manners of practicing medicine in CME activities are scientifically based, valid, and relevant to the practice of medicine. Med-IQ is responsible for validating the content of the CME activities it provides. Specifically, (1) all recommendations addressing the medical care of patients must be based on evidence that is scientifically sound and recognized as such within the profession; (2) all scientific research referred to, reported, or used in CME in support or justification of a patient care recommendation must conform to generally accepted standards of experimental design, data collection, and analysis.

Med-IQ is not liable for any decision made or action taken in reliance upon the information provided through this activity.

Contact Information
For questions or comments about this activity, please contact Med-IQ. Call (toll-free) 866 858 7434 or email info@med-iq.com.

System Requirements
Desktop
Operating system - Med-IQ supports the following operating systems:

Microsoft Windows supported by Microsoft
Mac OS supported by Apple

Browsers - Med-IQ supports the current version of each browser listed below, plus two prior versions:
Mobile
Operating system - Med-IQ supports the current operating system, plus two prior releases:

Android (eg, Samsung Galaxy)
Apple (eg, iPhone/iPad)

Browsers - Med-IQ supports the default browser for the applicable operating system release, plus two prior releases:

Android (Chrome)
Apple (Safari)
Applications & Software
For technical assistance, please refer to our Support Manual.

Disclaimer
The information provided through this activity is for continuing education purposes only and is not meant to substitute for the independent medical judgment of a physician relative to diagnostic and treatment options of a specific patient's medical condition.

Privacy & Confidentiality
Med-IQ is committed to honoring your privacy and protecting any personal information you choose to share with us. For detailed information about our privacy policy, please visit: www.med-iq.com/privacy-policy.html.
Acknowledgment of Commercial Support
This activity is supported by an educational grant from QED Therapeutics.

Copyright
© 2019 Med-IQ, Inc.
Unless otherwise indicated, photographed subjects who appear within the content of this activity or on artwork associated with this activity are models; they are not actual patients or doctors.
Need help? If you need to speak with a member of our team, please call (toll-free) 866 858 7434 or email info@med-iq.com. For technical assistance, please refer to our support manual.