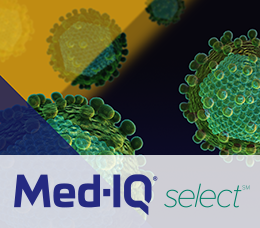 Med-IQ Select
HCV Management in Family Practice: Reinforcing the Armamentarium
This educational activity was developed prior to the November 2019 update to the AASLD-IDSA HCV Guidance: Recommendations for Testing, Managing, and Treating Hepatitis C. The following guideline updates are important to this activity:
One-time, routine, opt-out HCV testing is recommended for all individuals aged 18 years and older
HCV treatment should be initiated without awaiting spontaneous resolution after the initial diagnosis of acute HCV with viremia (defined as quantifiable RNA)
Patients with compensated cirrhosis should receive 8 weeks rather than 12 weeks of daily fixed-dose combination of glecaprevir (300 mg)/pibrentasvir (120 mg)
Please choose a module from the options below. To receive credit and a certificate, you must complete all of the modules in this activity.
By clicking to continue below, you confirm that you have reviewed the CME information.
---

Time to complete: 36 minutes
---

Time to complete: 29 minutes
---

Time to complete: 29 minutes
---

Time to complete: 25 minutes
---
Complete all of the above modules to earn credit;
0 out of 4 modules complete
---
---
Released: 11/5/2019
Expires: 11/4/2020
---
Overview: This accredited educational activity, which contains chapters that can be accessed and completed as separate modules, discusses the current screening and management of individuals with hepatitis C virus (HCV) infection. Topics include the identification and evaluation of individuals with an increased HCV risk, appropriate tests and work-up, key factors to consider in the selection of HCV therapy, and the provision of follow-up care for patients completing direct-acting antiviral therapy. These topics will be explored in the context of unique and relevant patient populations, including individuals who inject drugs and those with compensated cirrhosis.
---
CME Information:
Faculty
Lesley Miller, MD
Associate Professor of Medicine
Division of General Medicine and Geriatrics
Emory University School of Medicine
Medical Director, Grady Liver Clinic
Atlanta, GA

Andrew Muir, MD
Professor of Medicine
Chief, Division of Gastroenterology in the Department of Medicine
Director, GI/Hepatology Program, DCRI
Duke University School of Medicine
Durham, NC

Activity Planners
Erin Mooney, MS
Clinical Content Manager
Med-IQ
Baltimore, MD

Samantha Gordon
CME Specialist
Med-IQ
Baltimore, MD

Kathryn Schaefer, MSN, RN, CPHRM
Senior Manager, Accreditation and Compliance
Med-IQ
East Lansing, MI

Learning Objectives
Upon completion, participants should be able to:
Choose appropriate HCV treatment based on available evidence and patient-specific characteristics
Outline current knowledge of effectiveness and adherence to HCV treatment among patients with related comorbidities such as substance use disorder, HIV, and/or cirrhosis
Integrate recommendations for monitoring and follow-up care for patients with HCV receiving or completing DAA therapy
Target Audience
This activity is intended for family medicine clinicians including physicians, nurse practitioners, and physician assistants.

Statement of Need
Despite ongoing campaigns to improve screening practices to identify and treat individuals with HCV infection, a substantial percentage of those with HCV remain unaware of their infection. Additionally, the incidence of acute HCV, which often has subtle or no specific symptoms, tripled from 2010 to 2016 due to the opioid epidemic. This reality means not only that many individuals remain capable of unknowingly spreading HCV to others, but also that infected individuals receive no care and remain susceptible to substantial HCV-related morbidity and mortality. Family medicine clinicians have a critical role in identifying and screening appropriate patients for HCV infection, and education about up-to-date screening recommendations and management strategies for patients with HCV infection helps support this vital function. Importantly, because affected patients most often and most easily access family medicine care, these providers should be knowledgeable regarding treatment standards for HCV as well as appropriate monitoring strategies during and after treatment.

Providership Statement
Provided by Med-IQ.

Accreditation/Designation Statement
Med-IQ is accredited by the Accreditation Council for Continuing Medical Education (ACCME) to provide continuing medical education for physicians.

Med-IQ designates this enduring material for a maximum of 2.0 AMA PRA Category 1 Credits™. Physicians should claim only the credit commensurate with the extent of their participation in the activity.

Nurse practitioners, physician assistants, and other healthcare professionals who successfully complete the activity will receive a Statement of Participation indicating the maximum credits available.

Medium/Method of Participation
This is a 2.0-credit CME activity. To receive credit, read the introductory CME material, complete all of the modules, and complete the evaluation, attestation, and post-test, answering at least 70% of the post-test questions correctly.

Initial Release Date: November 5, 2019
Expiration Date: November 4, 2020
Estimated Time to Complete This Activity: 2 hours

Disclosure Policy
Med-IQ requires any person in a position to control the content of an educational activity to disclose all relevant financial relationships with any commercial interest. The ACCME defines "relevant financial relationships" as those in any amount occurring within the past 12 months, including those of a spouse/life partner, that could create a conflict of interest (COI). Individuals who refuse to disclose will not be permitted to contribute to this CME activity in any way. Med-IQ has policies in place that will identify and resolve COIs prior to this educational activity. Med-IQ also requires faculty to disclose discussions of investigational products or unlabeled/unapproved uses of drugs or devices regulated by the US Food and Drug Administration.

Disclosure Statement
The content of this activity has been peer reviewed and has been approved for compliance. The faculty and contributors have indicated the following financial relationships, which have been resolved through an established COI resolution process, and have stated that these reported relationships will not have any impact on their ability to give an unbiased presentation.

Andrew Muir, MD
Consulting fees/advisory boards: AbbVie Inc., Blade Therapeutics, Dova Pharmaceuticals, Gilead Sciences, Inc., Merck & Co., Inc., Precision BioSciences, Shionogi Inc.
Contracted research: AbbVie Inc. Dova Pharmaceuticals, Gilead Sciences, Inc., Intercept Pharmaceuticals, Inc., Merck & Co., Inc., NGM Biopharmaceuticals, Novartis Pharmaceuticals Corporation, Proteus Digital Health, Taiwan J Pharmaceutical

Lesley Miller, MD
Consulting fees/advisory boards: AbbVie Inc.

The peer reviewers and activity planners have no financial relationships to disclose.

Statement of Evidence-Based Content
Educational activities that assist physicians in carrying out their professional responsibilities more effectively and efficiently are consistent with the ACCME definition of continuing medical education (CME). As an ACCME-accredited provider of CME, it is the policy of Med-IQ to review and ensure that all the content and any recommendations, treatments, and manners of practicing medicine in CME activities are scientifically based, valid, and relevant to the practice of medicine. Med-IQ is responsible for validating the content of the CME activities it provides. Specifically, (1) all recommendations addressing the medical care of patients must be based on evidence that is scientifically sound and recognized as such within the profession; (2) all scientific research referred to, reported, or used in CME in support or justification of a patient care recommendation must conform to generally accepted standards of experimental design, data collection, and analysis.

Med-IQ is not liable for any decision made or action taken in reliance upon the information provided through this activity.

Contact Information
For questions or comments about this activity, please contact Med-IQ. Call (toll-free) 866 858 7434 or email info@med-iq.com.;

System Requirements
Desktop
Operating system - Med-IQ supports the following operating systems:

Microsoft Windows supported by Microsoft
Mac OS supported by Apple

Browsers - Med-IQ supports the current version of each browser listed below, plus two prior versions:
Mobile
Operating system - Med-IQ supports the current operating system, plus two prior releases:

Android (eg, Samsung Galaxy)
Apple (eg, iPhone/iPad)

Browsers - Med-IQ supports the default browser for the applicable operating system release, plus two prior releases:

Android (Chrome)
Apple (Safari)
Applications & Software
For technical assistance, please refer to our Support Manual.

Disclaimer
The information provided through this activity is for continuing education purposes only and is not meant to substitute for the independent medical judgment of a physician relative to diagnostic and treatment options of a specific patient's medical condition.

Privacy & Confidentiality
Med-IQ is committed to honoring your privacy and protecting any personal information you choose to share with us. For detailed information about our privacy policy, please visit: www.med-iq.com/privacy-policy.html.

Acknowledgment of Commercial Support
This activity is supported by an educational grant from Gilead Sciences, Inc.

Copyright
© 2019 Med-IQ, Inc.
Unless otherwise indicated, photographed subjects who appear within the content of this activity or on artwork associated with this activity are models; they are not actual patients or doctors.
Need help? If you need to speak with a member of our team, please call (toll-free) 866 858 7434 or email info@med-iq.com. For technical assistance, please refer to our support manual.