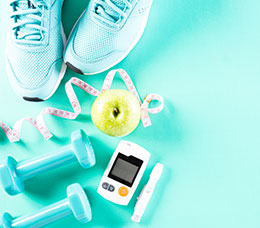 Making Real-Time Insulin Adjustments During Exercise
Developed by Med-IQ in collaboration with JDRF.
Note: This material is not accredited for CME and, therefore, does not offer any CME/CE credit.
---
Overview: This e-brief focuses on how people living with type 1 diabetes (T1D) can manage their insulin dosing during exercise. Case examples are provided to illustrate the different insulin adjustments needed for various types of physical activity.
---
Faculty
Michael Riddell, PhD
Professor
School of Kinesiology and Health Science
Muscle Health Research Centre
York University
Toronto, Canada
---
Expires: 6/24/21
---
Funded in part by The Leona M. and Harry B. Helmsley Charitable Trust and supported by an educational grant from Novo Nordisk, Inc.
Unless otherwise indicated, photographed subjects who appear within the content of this activity or on artwork associated with this activity are models; they are not actual patients or doctors.
Need help? If you need to speak with a member of our team, please call (toll-free) 866 858 7434 or email info@med-iq.com. For technical assistance, please refer to our support manual.