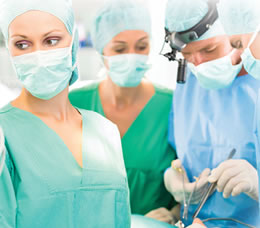 Webcast
The Optimal Selection of Short-Acting Intraoperative Opioids: An Expert Roundtable, Discussion-Based Webcast for Anesthesiologists, CRNAs, and Pharmacists
Webcast
---
Overview: This exciting 60-minute, interactive, discussion-based Webcast is tailored to the unique clinical challenges faced by anesthesiologists and certified registered nurse anesthetists (CRNAs) who are charged with selecting short-acting intraoperative opioids and by hospital-based pharmacists who are responsible for formulary decision making. Through a dynamic debate and discussion format, this compelling, CME activity provides expert insight into decision-making processes regarding safety and benefit considerations. It also presents strategies for effective communication among anesthesiologists, CRNAs, and pharmacists regarding patient needs and economic factors.
---
CME Information:
Learning Objectives
Upon completion, participants should be able to:
Evaluate the safety, effectiveness, and cost of intraoperative IV opioids used in general anesthesia
Identify patient characteristics that place patients at risk of surgical complications following the administration of opioid-based anesthesia regimens
Outline pharmacokinetic and pharmacodynamic properties that affect the selection of intraoperative opioid analgesics
Faculty
Adam I. Levine, MD
Professor of Anesthesiology, Structural and Chemical Biology, and Otolaryngology
Mount Sinai School of Medicine
New York, NY
Molly Billstein Leber, PharmD
Manager, Drug Use Policy, Department of Pharmacy Services
Yale-New Haven Health Hospital
Interim Clinical Coordinator, Formulary Integration Committee
New Haven, CT

Sharon Pearce, CRNA, MSN
President, American Association of Nurse Anesthetists
Certified Registered Nurse Anesthetist
Carolina Anesthesia and Associates
Hickory, NC
Activity Planners
Iwona Misiuta, PhD, MHA
Clinical Content Manager
Med-IQ
Baltimore, MD

Amy Sison
Director of Continuing Medical Education
Med-IQ
Baltimore, MD

Target Audience
This activity is intended for anesthesiologists, certified registered nurse anesthetists (CRNAs), and hospital-based/health-system pharmacists.

Series Overview/Statement of Need
Anesthesiologists and certified registered nurse anesthetists (CRNAs) who care for surgical patients must consider several factors when selecting intraoperative opioids. Pharmacists, as members of the Pharmacy and Therapeutics Committee, play an integral role in deciding which anesthetic agents should be included in hospital formularies. They are also responsible for identifying medically appropriate and cost-effective medications. Short-acting opioids are frequently used in the intraoperative setting to provide analgesia and antinociception; their benefits, however, must be weighed against safety and cost considerations. Anesthesiologists, CRNAs, and pharmacists should take safety, patient, and financial factors into consideration when choosing short-acting intraoperative opioid anesthesia. Pharmacokinetic and pharmacodynamic modeling among short-acting opioid intravenous anesthetics must also be considered when developing anesthesia plans.

Accreditation/Designation Statements
Med-IQ is accredited by the Accreditation Council for Continuing Medical Education to provide continuing medical education for physicians. Med-IQ designates this enduring material for a maximum of 1.0 AMA PRA Category 1 Credit™. Physicians should claim only the credit commensurate with the extent of their participation in the activity.
Med-IQ is accredited by the Accreditation Council for Pharmacy Education as a provider of continuing pharmacy education. 1.0 contact hour (0.10 CEUs) of credit for pharmacists. ACPE #0476-0000-14-001-H04-P. This knowledge-based activity is designed for all pharmacists.

Nurse practitioners, physician assistants, and other healthcare professionals who successfully complete the activity will receive a Statement of Participation indicating the maximum credits available.

Estimated Time to Complete This Activity
To receive credit, read the introductory CME/CE material, watch the Webcast, and complete the evaluation, attestation, and post-test, answering at least 70% of the post-test questions correctly.

Original Release Date: December 22, 2014
Expiration Date: December 21, 2015
Estimated Time to Complete This Activity: 1 hour

The evaluation, attestation, and post-test may be accessed by clicking the "Get Credit" tab at the bottom of the Webcast activity.

Disclosure Policy
Med-IQ requires any person in a position to control the content of an educational activity to disclose all relevant financial relationships with any commercial interest. The ACCME defines "relevant financial relationships" as those in any amount occurring within the past 12 months, including those of a spouse/life partner, that could create a conflict of interest (COI). Individuals who refuse to disclose will not be permitted to contribute to this CME activity in any way. Med-IQ has policies in place that will identify and resolve COIs prior to this educational activity. Med-IQ also requires faculty to disclose discussions of investigational products or unlabeled/unapproved uses of drugs or devices regulated by the US Food and Drug Administration.

Disclosure Statement
The content of this activity has been peer reviewed and has been approved for compliance. The faculty and contributors have indicated the following financial relationships, which have been resolved through an established COI resolution process, and have stated that these reported relationships will not have any impact on their ability to give an unbiased presentation.

Molly Billstein Leber, PharmD, has indicated no real or apparent conflicts.

Adam I. Levine, MD
Other (Speaker Bureau): Mylan Specialty

Sharon Pearce, CRNA, MSN, has indicated no real or apparent conflicts.

The activity planners and peer reviewers have no financial relationships to disclose.

Statement of Evidence-Based Content
Educational activities that assist physicians in carrying out their professional responsibilities more effectively and efficiently are consistent with the ACCME definition of continuing medical education (CME). As an ACCME-accredited provider of CME, it is the policy of Med-IQ to review and ensure that all the content and any recommendations, treatments, and manners of practicing medicine in CME activities are scientifically based, valid, and relevant to the practice of medicine. Med-IQ is responsible for validating the content of the CME activities it provides. Specifically, (1) all recommendations addressing the medical care of patients must be based on evidence that is scientifically sound and recognized as such within the profession; (2) all scientific research referred to, reported, or used in CME in support or justification of a patient care recommendation must conform to generally accepted standards of experimental design, data collection, and analysis.

Med-IQ is not liable for any decision made or action taken in reliance upon the information provided through this activity.
Disclaimer
The information provided through this activity is for continuing education purposes only and is not meant to substitute for the independent medical judgment of a physician relative to diagnostic and treatment options of a specific patient's medical condition.
ADA Statement
Med-IQ fully complies with the legal requirements of the ADA and the rules and regulations thereof. If any participant in this educational activity is in need of accommodations, please contact Med-IQ at 443 543 5200.

Hardware/Software Requirements
Operating System
Microsoft Windows® 2000, XP, Vista
Mac OS 10.1 or later

Browser
Microsoft Internet Explorer 6.0 or later

Mozilla Firefox 5.0 or later
Download: http://www.mozilla.org/en-US/firefox/new/

Google Chrome
Download: http://www.google.com/chrome

Apple Safari
Download: http://www.apple.com/safari/download/

PDF Viewer
Adobe Acrobat Reader® or Adobe Reader
Download: http://get.adobe.com/reader/

Adobe Flash Player
Adobe Flash Player 9 or later
Download: http://get.adobe.com/flashplayer/

Connection Type
High bandwidth (300k) is strongly recommended
Low bandwidth (100k) results in less than optimal quality
Dial-up/modem is not recommended

For technical support, go to https://www.med-iq.com/index.cfm?fuseaction=content.support.

Contact Information
For questions or comments about this activity, please contact Med-IQ. Call (toll-free) 866 858 7434 or e-mail info@med-iq.com.

Privacy & Confidentiality
Med-IQ is committed to honoring your privacy and protecting any personal information you choose to share with us. For detailed information about our privacy notice, please visit: www.Med-IQ.com/privacy-statement/.

Acknowledgment of Commercial Support
This activity is supported by an educational grant by Mylan Specialty.

Copyright
© 2014 Med-IQ®. All rights reserved.
Unless otherwise indicated, photographed subjects who appear within the content of this activity or on artwork associated with this activity are models; they are not actual patients or doctors.
Need help? If you need to speak with a member of our team, please call (toll-free) 866 858 7434 or email info@med-iq.com. For technical assistance, please refer to our support manual.