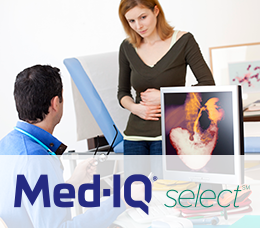 Med-IQ Select
Modulating JAK Signaling in IBD
Please choose a module from the options below. To receive credit and a certificate, you must complete all of the modules in this activity.
Welcome to this Med-IQ Select on the role of Janus kinase (JAK) signaling in inflammatory bowel disease (IBD). Med-IQ Select is a unique online educational offering that allows you to pick and choose the content you'd like to view—in any order and at your convenience.

To get started, click "view" on any of the modules below. To receive credit and a certificate, you must complete all of the modules.
By clicking to continue below, you are confirming that you have reviewed the CME information and read, understood, and unconditionally agreed to the Privacy Notice and Terms of Use.
---

Time to complete: 7 minutes
---

Whiteboard Animation Video
Time to complete: 2 minutes
---

Whiteboard Animation Video
Time to complete: 2 minutes
---

Time to complete: 15 minutes
---

Time to complete: 10 minutes
---
Complete all of the above modules to earn credit;
0 out of 5 modules complete
---
---
Released: 8/30/19
Expires: 8/29/20
---
Overview: Join expert faculty, Benjamin L. Cohen, MD, in this modular, interactive, digital activity, known as CME Select, as he discusses the role of JAK signaling in IBD. Dr. Cohen explains how current and investigational JAK inhibitors, also known as jakinibs, modulate the JAK signaling pathway. This activity also includes whiteboard-style mechanism of action videos to demonstrate JAK signaling in IBD and the clinical effects of differential selectivity of various JAK inhibitors.
---
CME Information:
Faculty
Benjamin L. Cohen, MD, MAS
Assistant Professor, Dr. Henry D. Janowitz Division of Gastroenterology
Icahn School of Medicine at Mount Sinai
New York, NY

Activity Planners
Iwona Misiuta, PhD, MHA
Clinical Content Manager
Med-IQ
Baltimore, MD

Samantha Gordon
CME Specialist
Med-IQ
Baltimore, MD

Kathryn Schaefer, MSN, RN, CPHRM
Senior Manager, Accreditation and Compliance
Med-IQ
East Lansing, MI

Learning Objective
Upon completion, participants should be able to:
Describe the clinical rationale for targeting JAK signaling in the treatment of IBD
Incorporate clinical evidence on the safety and efficacy of JAK inhibitors into current and future treatment decisions for patients with UC and CD
Target Audience
This activity is intended for gastroenterologists.

Statement of Need
IBD, which includes ulcerative colitis (UC) and Crohn's disease (CD), is a chronic, lifelong condition that requires continuous management. More than 1 million people in the United States are living with IBD, and as many as 70,000 new cases are diagnosed each year. The incidence of IBD is highest among patients who are in their 20s to 40s, which is one of the most productive periods of life. Indeed, IBD has a substantial impact on patient quality of life and negatively affects school, work, and social situations. Although the exact cause of IBD is not known, the disease appears to be the result of an interaction between the immune system, environmental factors, and genetic predisposition.

There is currently no cure for either UC or CD, and patients require long-term medical therapy. Over the past decade, TNF-alpha and integrin inhibitors have emerged as a mainstay for managing those who fail to respond to conventional treatments. However, a substantial proportion of patients will experience primary non-response or secondary loss of response to these agents, prompting the need for additional therapeutic options with distinct mechanisms of action.

Current strategies have mainly focused on modulating extracellular proinflammatory cytokines, but more recent investigation has shifted focus to intracellular transducers of these signals. The JAK family has emerged as a leading target; of the more than 200 known cytokines, approximately 60 of them use the JAK pathway to communicate signals inside the cell. Because it is unclear which specific cytokines are responsible for driving the progression of various autoimmune diseases, including IBD, targeting the JAK family is a rational therapeutic approach with potentially broad applications.

Providership Statement
Provided by Med-IQ.

Accreditation/Designation Statement
Med-IQ is accredited by the Accreditation Council for Continuing Medical Education (ACCME) to provide continuing medical education for physicians.

Med-IQ designates this enduring material for a maximum of 0.75 AMA PRA Category 1 Credit™. Physicians should claim only the credit commensurate with the extent of their participation in the activity.

Medium/Method of Participation
This is a 0.75-credit CME activity. To receive credit, read the introductory CME material, complete all of the modules, and complete the evaluation, attestation, and post-test, answering at least 70% of the post-test questions correctly.

Initial Release Date: August 30, 2019
Expiration Date: August 29, 2020
Estimated Time to Complete This Activity: 45 minutes

Disclosure Policy
Med-IQ requires any person in a position to control the content of an educational activity to disclose all relevant financial relationships with any commercial interest. The ACCME defines "relevant financial relationships" as those in any amount occurring within the past 12 months, including those of a spouse/life partner, that could create a conflict of interest (COI). Individuals who refuse to disclose will not be permitted to contribute to this CME activity in any way. Med-IQ has policies in place that will identify and resolve COIs prior to this educational activity. Med-IQ also requires faculty to disclose discussions of investigational products or unlabeled/unapproved uses of drugs or devices regulated by the US Food and Drug Administration.

Disclosure Statement
The content of this activity has been peer reviewed and has been approved for compliance. The faculty and contributors have indicated the following financial relationships, which have been resolved through an established COI resolution process, and have stated that these reported relationships will not have any impact on their ability to give an unbiased presentation.

Benjamin L. Cohen, MD, MAS
Consulting fees/advisory boards: AbbVie Inc., Alfasigma USA, Inc., Celltrion, Grifols, Sublimity Therapeutics
Other (expert witness): Allergan

The peer reviewers and activity planners have no financial relationships to disclose.

Statement of Evidence-Based Content
Educational activities that assist physicians in carrying out their professional responsibilities more effectively and efficiently are consistent with the ACCME definition of continuing medical education (CME). As an ACCME-accredited provider of CME, it is the policy of Med-IQ to review and ensure that all the content and any recommendations, treatments, and manners of practicing medicine in CME activities are scientifically based, valid, and relevant to the practice of medicine. Med-IQ is responsible for validating the content of the CME activities it provides. Specifically, (1) all recommendations addressing the medical care of patients must be based on evidence that is scientifically sound and recognized as such within the profession; (2) all scientific research referred to, reported, or used in CME in support or justification of a patient care recommendation must conform to generally accepted standards of experimental design, data collection, and analysis.

Med-IQ is not liable for any decision made or action taken in reliance upon the information provided through this activity.

Contact Information
For questions or comments about this activity, please contact Med-IQ. Call (toll-free) 866 858 7434 or email info@med-iq.com.;

System Requirements
Desktop
Operating system - Med-IQ supports the following operating systems:

Microsoft Windows supported by Microsoft
Mac OS supported by Apple

Browsers - Med-IQ supports the current version of each browser listed below, plus two prior versions:
Mobile
Operating system - Med-IQ supports the current operating system, plus two prior releases:

Android (eg, Samsung Galaxy)
Apple (eg, iPhone/iPad)

Browsers - Med-IQ supports the default browser for the applicable operating system release, plus two prior releases:

Android (Chrome)
Apple (Safari)
Applications & Software
For technical assistance, please refer to our Support Manual.

Disclaimer
The information provided through this activity is for continuing education purposes only and is not meant to substitute for the independent medical judgment of a physician relative to diagnostic and treatment options of a specific patient's medical condition.

Privacy & Confidentiality
Med-IQ is committed to honoring your privacy and protecting any personal information you choose to share with us. For detailed information about our privacy policy, please visit: www.med-iq.com/privacy-policy.html.

Acknowledgment of Commercial Support
This activity is supported by an educational grant from Gilead Sciences, Inc.

Copyright
© 2019 Med-IQ, Inc.
Unless otherwise indicated, photographed subjects who appear within the content of this activity or on artwork associated with this activity are models; they are not actual patients or doctors.
Need help? If you need to speak with a member of our team, please call (toll-free) 866 858 7434 or email info@med-iq.com. For technical assistance, please refer to our support manual.